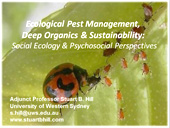 Click to download Powerpoint presentation (22.3mb)
Download pdf of Abstract below
Ecological Pest Management, Deep Organics and Sustainability:
Social Ecology and Psychosocial Perspectives
Stuart B. Hill[1]
Adjunct Professor & Foundation Chair of Social Ecology,
School of Education, University of Western Sydney, Penrith, NSW, Australia

Abstract
Ecology is concerned with the lives of, and relationships between, organisms within their environment; and particularly with their diversity, numbers, distribution and activities (especially their system-maintenance roles), and with the factors that influence these characteristics. Ecological approaches to pest management draw on this knowledge to design and manage ecosystems to:

make the crop (and habitat) unacceptable and resistant to pests by interfering with their oviposition preferences, host plant discrimination or location by both adults and immatures;


make the crop unavailable to the pests in space and time by utilizing knowledge of the pest's life history, especially its dispersal and overwintering habits; and


This particularly involves doing things that favour the crop and the natural controls, and that discourage and impact on the pests.

Whereas 'deep' (design- and management-based) approaches to organic farming (and other 'alternative' agricultural systems[4] ) aim to do the above, the more common 'shallow' organic approaches rely primarily on the use of the least disruptive and least toxic curative interventions (as substitutes for conventional synthetic biocides[5]). Only 'deep' approaches, which are likely to be most sustainable, will be discussed in this presentation.

It is equally important to consider the contexts in which such sustainable 'deep' initiatives can be implemented and further developed.

Pest control is a contested area, involving – in order of power – the pharmaceutical and petrochemical (and other agribusiness) industries, governments, and the community. Within the community, influencing our understanding and action, are the media, the various sectors within the food system (including producers and other natural resource managers, product handlers and distributers, and service providers), non-governmental and professional organisations, educators, researchers, and consumers.

Current pest management perceptions and practices are the result of the progressive psychosocial evolution of our species, and of the influences of our past and present institutional structures and processes, including particularly those of our economic, political and social systems, the design and management of our natural resource systems (agroecosystems, etc), human competence and access to resources and technologies, and environmental conditions.

It is not surprising, therefore, that what is currently practiced, despite the commitments, good intentions and efforts of people such as yourselves, is far from ideal.

Optimal pest management is limited by the levels of empowerment, awareness, vision and values among all involved, and within the general population. As well as addressing these foundational factors, implementation will eventually require the following:

comprehensive knowledge, competence, wisdom, experience, the psychological health of all involved, and considerable commitment and courage (to resist acting in ways that are in conflict with our highest values, and to not postpone responsible action);



natural resource systems that are designed and managed to enable system health and wellbeing (with high levels of evenness among the natural controls, and among the species involved in system maintenance), and be as pest-proof as possible;


research and extension programs that prioritise the design and management of such systems, with the development of curative interventions being secondary, and being required to be supportive of, and minimally disruptive to, such systems; and


education and training programs being similarly supportive to the above criteria.


All of these areas need to be subjected to a critical evaluation as to what among present structures, processes and actions need to be:

expanded or modified; and

newly developed and introduced.

Institutional means to achieve this will involve the development and implementation of a broad range of:

rewards (just available during transition periods); and

penalties (to achieve compliance).


Because all of the above is ultimately limited (and enabled) by our psychological condition, this – and its improvement – will be the final focus of this presentation, together with suggestions for some helpful achievable actions that may be taken by all who are present today.
Abstract for presentation in the Symposium: Entomologie et agriculture biologique: de l'écologie à la pratique/Entomology and Organic Agriculture: from Ecological Principles to Practical Applications, to be held in Boucherville (Hotel Mortagne: www.hotelmortagne.com/en; 5 km from Montreal) as part of the 139th Annual Meeting of the Entomological Society of Québec/Société d'entomologie du Québec (SEQ: www.seq.qc.ca), 1-2 Nov, 2012. The symposium will almost coincide with the opening of IRDA's new facility devoted to R&D and outreach in organic farming in St-Bruno, Quebec (www.irda.qc.ca).
---
---

Professor Stuart B. Hill is Foundation Chair of Social Ecology
at the University of Western Sydney

School of Education (includes previous School of Social Ecology & Lifelong Learning)
University of Western Sydney (Kingswood Campus),
Locked Bag 1797, PENRITH SOUTH DC, NSW 1797, AUSTRALIA
Phone: 61(0)2-4736-0799; Fax: 61(0)2-4736-0400; email This email address is being protected from spambots. You need JavaScript enabled to view it.

Co-Editor: Journal of Organic Systems http://www.organic-systems.org/index.html
Co-Creator: Australian Society for Sustainable Business http://societyforsustainablebusiness.org/
Professor Stuart B. Hill is Foundation Chair of Social Ecology at the University of Western Sydney. At UWS he teaches units on Qualitative Research Methodology, Social Ecology Research, Transformative Learning, Leadership and Change, and Sustainability, Leadership and Change.
His PhD was one of the first whole ecosystem studies that examined community and energy relationships (1969); and it was the earliest such study conducted by a single researcher. For this he received the awards for Best PhD Thesis and Best PhD Student. In 1977 he received a Queen's Silver Jubilee Medal for his community and social transformation work.
In 1972, in Canada, he produced a report for the New Brunswick Government on Energy and Agriculture that detailed many of the resource, environment and climate issues that are at last being recognized today. Since then he has produced many more cutting edge reports, and has been an advisor to several ministers.
Prior to 1996 he was at McGill University, in Montreal, where he was responsible for the zoology degree, and where in 1974 he established Ecological Agriculture Projects, Canada's leading resource centre for sustainable agriculture (www.eap.mcgill.ca).
His last PhD student at McGill was Ann Dale, who was on leave from the Privy Council Office, and who had played a major role in the establishment of the first 'National Round Table for the Economy and the Environment'. Her thesis, which has been published as a book (At the Edge: Sustainable Development in the 21st Century, UBC Pr, 2001) examines what is needed for governments to deal responsibly with sustainability.
Hill has published over 350 papers and reports. His latest books are Ecological Pioneers: A Social History of Australian Ecological Thought and Action (with Dr Martin Mulligan; Cambridge UP, 2001) and Learning for Sustainable Living: Psychology of Ecological Transformation (with Dr Werner Sattmann-Frese; Lulu, 2008).
More recently he has contributed groundbreaking chapters to five books: Enabling redesign for deep industrial ecology and personal values transformation, in Industrial Ecology and Spaces of Innovation (2006); Redesign as deep industrial ecology: lessons from ecological agriculture and social ecology, in Industrial Ecology: A Question of Design? (2006); Social ecology as a framework for understanding and working with social capital and sustainability within rural communities, in A Dynamic Balance: Social Capital and Sustainable Community Development (2005); Learning Ecology: A New Approach to Learning and Transforming Ecological Consciousness: Experiences from Social Ecology in Australia, in Learning Toward An Ecological Consciousness: Selected Transformative Practices (2004); and Autonomy, mutualistic relationships, sense of place, and conscious caring: a hopeful view of the present and future, in Changing Places: Re-imagining Australia (2003).
In Canada he was a member of over 30 regional, national and international boards and committees. He is currently on the editorial board of five international refereed journals, and until 2004 he represented professional environmental educators on the NSW Council on Environmental Education.
Stuart has worked in agricultural and development projects in the West Indies, French West Africa, Indonesia, The Philippines, China, the Seychelles, the UK, Canada, New Zealand, and Australia. His work in the Seychelles to make a whole coralline island completely self sufficient in food and energy is particularly significant.
His background in chemical engineering, ecology, soil biology, entomology, agriculture, psychotherapy, education, policy development and international development, and his experience of working with transformative change, has enabled him to be an effective facilitator in complex situations that demand collaboration across difference and a long-term co-evolutionary approach to situation improvement. These skills were used extensively in his recent role as Provocateur for the Victorian Government (for DPI & DSE: 2004-5).
Recent Keynotes at National Conferences include the following:
Hill, S.B. 2006. Engaging Us: Ecological Thinking as a Basis for Community Change. Keynote to Enviro 06 Conf. & Exhibn.: Building Sustainable Cities [Melbourne; 11 May]
Hill, S.B. 2006. Taking Appropriate Next Steps to Progressive Change: Building on the Past and Risking Deep Transformation Towards More Sustainable Communities. Keynote to APEN '06 Int. Conf.: Practice change for sustainable communities: exploring footprints, pathways and possibilities [Beechworth, VIC; 6-8 March]
[web; 18 pp: www.regional.org.au/au/apen/2006/keynote/4003_hills.htm]